Links
Useful links for those interested in the local history of the area:

North West Kent Family History Society

The North West Kent Family History Society was formed in 1978 with the object of encouraging and aiding the study of family history, genealogy and heraldry in South East London and North West Kent.
Our geographical area is bounded to the north by the River Thames from Deptford to Northfleet, thence southwards to Tonbridge, westwards to the Surrey border and then northwards back to the Thames.
---

Peter Mayer's Hartley web site

Hartley has come a long way since the "clearing in the wood where the deer are" of a thousand years ago, to the small dormitory town of today. No great events of national importance have happened here, and few famous people have made Hartley their home. And yet this story of ordinary people's lives is in its own way the story of England itself.
---

Kent Archaeological Society

The Kent Archaeological Society, the oldest and largest society devoted to the history and archaeology of the ancient county of Kent.
---

Crockenhill Parish Council

---

Farningham Parish Council

---

Eynsford Parish Council

---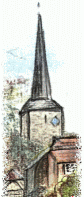 United Benefice of Eynsford, Farningham and Lullingstone

---
Shoreham and District Historical Society

The Shoreham & District Historical Society was formed in 1997 to promote awareness of the history of the district, organise meetings and visits, conserve archives and conduct and publish research.