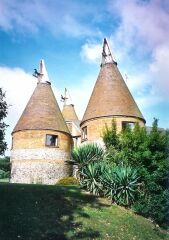 Maplescombe is an ancient hamlet lying in Knatts Valley near Farningham. The latest thought on its Anglo-Saxon name is that is comes from maple tree + camp, the latter word being associated with the margin between Roman estates, rather than from 'combe' or valley. This meaning might be borne out by the Domesday Book of 1086 which recorded that Maplescombe was roughly divided into two, each part being held by a separate person. Wadard and Ansgot held the land from Bishop Odo.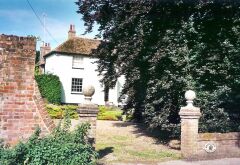 The ruins of the Anglo-Saxon church lie in a field off an ancient trackway - the parish being united to West Kingsdown in 1638. The present hamlet of Maplescombe lies near Maplescombe Farm, for many years farmed by the Rogers family, who in the 1890s inherited nearby Court Lodge Farm, Horton Kirby. The two farms were run as one unit until Maplescombe was sold in 1930 during a period of Agricultural Depression.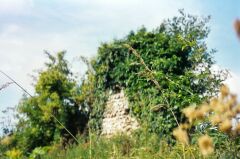 An elaborate brochure of the time contains details of a proposed Maplescombe 'model village', but nothing came of this and later Green Belt policies precluded any large scale development in open fields.

---
Susan Pittman.
Updated by FELHS in 2020